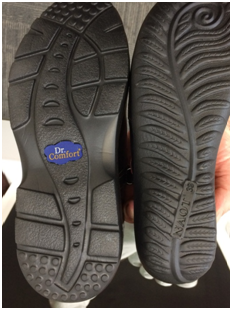 22 Jun

Footwear and Falls Prevention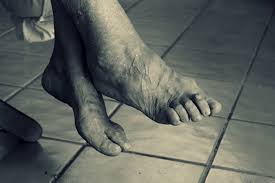 Every year about 1/3 of people aged over 65 will fall. This rises to almost 50 % of people aged 80 and above. Poor footwear can contribute to falls, so it stands to reason that good footwear can reduce the risk of falls. Wider based soles, non slip rubbers, lower heels and strong fixation all play a part.
Falls can destroy confidence, increase isolation and reduce independence. So, what can we do to prevent them?
What sort of shoes increases the risk of falls?  
Some footwear can increase the risk of slips, trips and falls by making people more prone to poor balance and bad gait, or by making it difficult to judge surface friction and distance from the floor. Examples of unsuitable footwear for the elderly include:
Loose, worn or backless slippers. These are one of the most common causes of older people falling.
Slip-on shoes, such as flip flops and jandels which can slip and trip you up.
Shoes with slippery or old, worn soles, can cause you to slip, especially in wet weather.
Shoes with a high or narrow heel, as these can make your foot unstable and can cause your ankle to turn.
Bare feet or wearing socks also increases the risk of slipping dramatically.
So, what are the characteristics of a safe shoe?
The importance of wearing well-fitting shoes greatly improves walking and gait. These are the characteristics of a safe shoe:
A high back or collar to support the ankle
A hard, slip-resistant sole
A heel height lower than 2.5cm
The wider the sole, the better- see photo below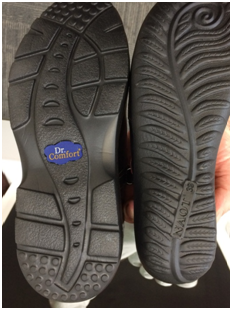 Here you see the difference between a broader shoe with a standard fitting one (both the same size). The broader shoe provides more stability and safety when walking due to the wider foundation.
It is also recommended that older people wear well-fitted, slip-resistant slippers or house shoes indoors rather than walking barefoot or in socks or tights. When buying indoor footwear look for:
A strong Velcro® fastener on the front to ensure they won't slip off
A wide opening to make it easier to get your foot in and out of the slipper which is important if you have restricted mobility
A 'house-shoe', which can offer the comfort of a slipper, but with the stable support of a shoe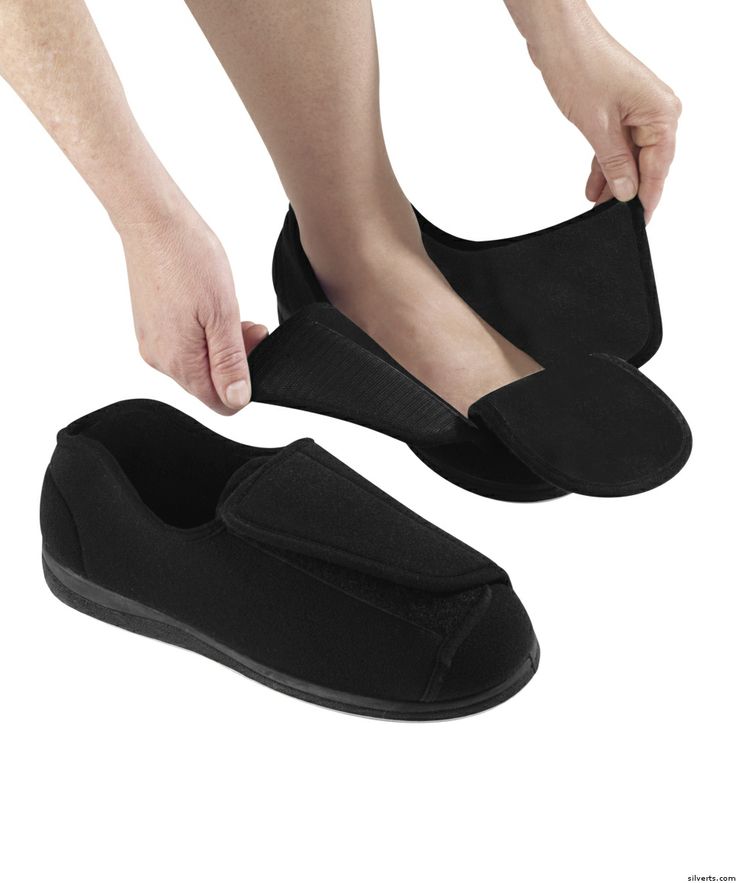 Our feet change over time. They may grow larger or wider, or we may develop painful deformities like bunions.
If you feel uncomfortable or unsteady in your footwear, it may be the time to get a new pair of shoes.  When buying new shoes it is recommended to seek professional advice or help. At Masterton Foot Clinic we have a range of footwear suitable for all age groups.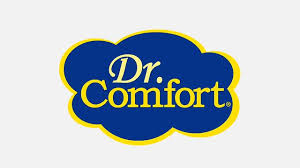 We offer a free foot measure and shoe advice service with our shoe guru, Katy. To find out more call, 06 370 4057 or visit our online shop at mastertonfootclinic.co.nz
A general note on falls and the elderly-
Overall, most falls are amenable to change and can be prevented through a multidisciplinary approach.  Falls result from the interaction of medical, psychological, environmental and age related changes. Gait and balance impairment with underlying foot problems, are one of the most consistently proven predictors of falls risk. Further, footwear plays an integral part in improving postural instability, by the use of a safe shoe checklist. Best practice in fall and injury prevention involves implementing the aforementioned strategies, identifying fall risk and implementing individualised strategies related to gait, foot problems and footwear, which must be monitored and reviewed regularly.
"At the end of the day, what does mobility mean for elderly people, what does it mean to be able to go for a walk, to go out?" she asks. "Of course, it's a physical function, but it is also a way to keep in touch with society, it is a vital way of being a part of society.
By Megan Horsham
Foot Care Assistant, Masterton Foot Clinic
This article was reviewed and edited by Adam Philps, Podiatrist at Masterton Foot Clinic
This and more useful advice is also available by Liking our Facebook page